Apex Launcher
Powerful, fast, and highly customizable home replacement for Android device. Apex Launcher helps you create a customized home screen experience on your device.Apex and Nova are almost identical. The transition animations are slightly different but functionality wise, these two apps are very similar.
Features:
• Customizable home screen, Fancy transition effects, and custom Icons
• Hide elements and Apps as you want (persistent search bar, status bar, or the dock)
• labels for shortcuts and folders with styles
• Multiple drawer styles with sorting
• home screen gestures (pinch, swipe up/down, double tap)
• Backup/restore settings and data….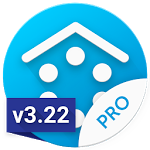 Smart Launcher
Smart Launcher 3 is completely different from any other launcher on Play Store. It's not based on the AOSP launcher.It has Low resource requirements, saving RAM and battery.
– Material design and themes with icon packs and widgets
– Quick access to your favorite apps and Search bar
– Double tap on an icon to start a second app
– Notifications on home screen and on Integrated Lock screen
– Turn off the screen with a double tap or just by leaving your device on a flat surface
– Plugin support
– Security to hide apps from the apps grid and protect them with password
GO Launcher EX
GO Launcher EX is simply …Stylish, Smart, Slim launcher for your Android phone. It is recently upgraded with a new flat interface design with interactive control experience with enhanced performance. GO Launcher is one of the most downloaded launchers.
Highlight features:
-APPs management: Hide & Lock APPs to protect phone security;
-Store: Theme store & APP Center brings you fashion & fun;
-Transition Effect: 17 effects available, magic every slide!
-Widget: Weather forecast widget, search widget, switches widget and 2016 calendar widget!

LauncherPro
LauncherPro is an alternative launcher for the attractive home screen of your Android phone.
Features:
– Super-smooth scrolling
– Animated screen previews (like Exposé or HTC Sense)
– Up to 7 home screens
– App drawer (2D and 3D!) with a fly-in effect and smooth scrolling
– Scrollable shortcut dock
Pixel Launcher
Pixel Launcher is the home screen experience for the Pixel and Pixel XL phones by Google.
Key features:
• Swipe right, your home screen to see personalized Google cards, for news and personalized information
• Quick access to Google Search on your primary home screen.
• Swipe up on the bottom Favorites row, to find your apps from A-Z with App suggestions at Top.
• Long-press on apps that support shortcuts to jump right into where you need to go or long-press on the shortcuts to drag them to the home screen.
KK Launcher
It is best suited for People, who want latest Android experience and clean, cool modern design
with more powerful and playful experience from their phone
-KK Launcher have 20+ unique, other launcherCOOL and useful features: such as Sidebar, Super folder, Private folder, App Lock, Double tap to turn off screen
another launcher, KK Launcher base on KitKat Android 4.4 and keep updating to latest Android N (Android 7.0 Nougat), having the latest Android UI and UE.
Image Source:androidcentral.com
Thanks for visiting TechieSwag.If you have any doubts, Please Comment below.