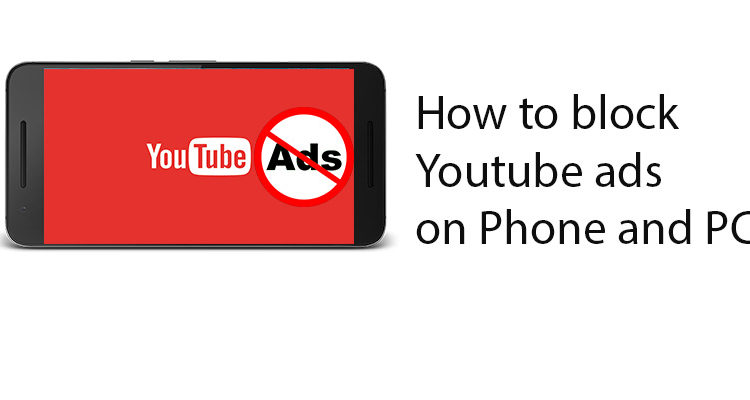 How to block Youtube ads on phone and pc.
Ads are annoying. They are intrusive and often ruin the experience and take you out of your immersion. Youtube has also become an ad-infested website with ads constantly being displayed no matter which video you are watching. There are also unskippable ads on youtube and sometimes they are longer than the video you are watching. Today we're going to show you how to block those annoying, pesky ads on youtube or block Youtube ads.
The first step is to disable the youtube app from your phone. To do this, go to settings. Then click on the magnifying glass icon and type apps. This will open all the apps installed on your phone. Scroll down to youtube and then click on the youtube icon. Once you clicked the youtube icon you will see options such as disable, force-stop, data, storage, permissions etc. Click on storage and then click on clear data and cache. After you have done this go back and click on disable. This will factory resets your youtube app meaning it will delete all the updates the youtube app has installed up to this point. After this, the option should show you enable. This means you have successfully disabled/uninstalled the youtube app from your phone.
Now go this link from your phone. Make sure you have google chrome installed to open this link https://apk4free.net/youtube-color-mod/. You can download this app on your pc and then transfer it via USB to your phone to be on the safer side of the spectrum.
Once the webpage has loaded scroll all the way down. Do not open anything that says free download with a green box. Scroll all the way down to the bottom of the page.
4. Click on the first mirror option. This will take you to this page
5. Select free download. This page will open. Click on create the download link.
6. After clicking on create download link this webpage will open.
7. Click on download.
8. Wait for the app to install. After installation, open the app. Ads do not appear because this is a modified version of youtube. The app is safe and has no virus or malware whatsoever.
9. This process is much easier on pc. All you have to do is install the adblocker extension. Go to the following link https://chrome.google.com/webstore/detail/adblock/gighmmpiobklfepjocnamgkkbiglidom. Click on add to chrome. Now ads are blocked on pc too.
10. In this way, you can block Youtube ads
In case of other tech related stuff click here techieswag.com