MUSIXMATCH:
As a music player, we do recommend Poweramp for high-performance tweaks. But, for a normal user who loves to sing along with songs, needs the lyrics on screen.So for them, we recommend Musixmatch.Though it has a built-in basic Music player, It can also provide u lyrics for any of your music player
Musixmatch has world's largest collection of song lyrics. It is used to get instantly synchronized lyrics for Youtube, Spotify, Pandora, AppleMusic, SoundCloud, Google PlayMusic, all other streaming services. Its lyrics gets updated with the new releases every day.
further, you can Search for your favorite song by title, artist or just with a single line of the lyrics. It also has smart seek to find your favorite lyrics by easily skipping through a song using the progress bar.
You can Tap on the real- time notification to display the Floating Lyrics widget and get the current track's lyrics.
Here, Take a look at below screen shot of musixmatch on my phone running cm14. I am playing the music on default music player and lyrics is shown on the floating window, with opened and the app running in the background.Similarly, it works on youtube, other apps, and streaming services with help of this floating window.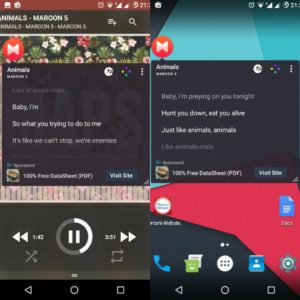 This also lets to get the lyrics to any song that's playing around you with one tap notification feature.It helps you to Easily learn new languages by displaying the translation of the lyrics, in time with the music.
It lets you to Share your favorite song lyrics on amazing backgrounds with the LyricsCard feature.
This app also lets you to Fetch song info and cover art for your songs.
If you can Write the lyrics you can Join their Community. so you can submit all your favorite lyrics, put them in time with the music. you can even have fun translating them. Musixmatch is also available on your Android Wear devices. so, you can Enjoy Musixmatch at home casting local music and lyrics to your TV with Chromecast.
MUSIXMATCH PREMIUM FEATURES:
Offline lyrics – enjoy all the lyrics you have viewed without a connection.
No ads – get all the lyrics with no ads.
No commitment – cancel anytime you like.
Thanks for visiting TechieSwag.If you have any doubts, Please Comment below.