As Andriod apps Increased vastly many users are facing the low internal storage problem. Are you one of them? Is your Android device old? low on space? thanks to the improved SD card features in Android 6.0 Marshmallow. If your phone has a MicroSD card slot, you can use it as internal shared storage to store your music, movies or even apps.
Starting with Android 6.0 Marshmallow, some phones can use SD cards as internal storage as well. In this case, your Android device "adopts" the SD card as part of its internal memory and Android can install apps to it and save app data to it.
In fact, since it's considered internal storage, any type of app can be installed to the SD card–including apps that provide widgets and background processes. Unlike older versions of Android, it doesn't matter whether the developer has disabled the "move to SD card" permission or not.
Portable vs. Internal Storage
There are two ways to use an SD card with your device. First one Portable, Android has traditionally used all SD cards as portable storage. You can remove the SD card from the device and plug it into your computer or another device and transfer files, like videos, music, and photos, back and forth. Your Android device will continue working properly even if you remove it.
In general, it's probably most convenient to leave MicroSD cards as portable storage. if you have a small amount of internal storage < 8GB and desperately need room for more apps and app data, then making that microSD card internal storage will allow you to gain some more internal storage. This comes at the cost of slower speed, as the card is possibly slower than your device's internal storage.So we recommend using a minimum of class 10 memory card.
when you use an SD card as internal storage, Android formats the SD card in such a way that no other device can read it. Android also expects the adopted SD card to always be present, and many apps won't work quite right if you remove it.
If you plan on adopting an SD card as internal storage, you'll want to first ensure you're using a speedy SD card at least of class 10. As Slower SD cards will slow down your apps and phone. However, While adopting an SD card, Android will test check its speeds and warn you if it's too slow and will negatively impact your performance.
How to Adopt a MicroSD Card as Internal Storage?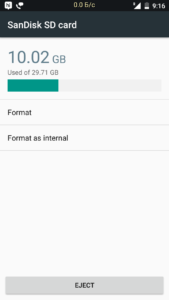 To do this, Insert the card it into the microSD slot on your device. You'll see a notification indicating your SD card or USB drive was detected. If it's an SD card, you'll see a "Set Up" button.
NOTE: Android will erase the contents of the drive, so be sure you've backed up any data on it.
Once a card has been formatted as internal storage, both the device internal storage and the card will show up as "device storage" under storage settings, and applications can be moved back and forth between the two.
To access storage settings and move media and applications, touch Settings > Storage > select SD card > select the three dots in the upper right > Settings > Move Media.
You can also move applications to the card by selecting > Settings > Apps > select Application > Storage > Storage location > SD card.
After I adopt an SD card as internal storage, can I use this card in another device or my laptop?
No. The card must be inserted in the device. Another device (laptop, camera) will not be able to view the content on the card. If an adopted SD card is removed from a device, the system will request that the card is reinserted; you will lose access to apps and data on the card until it is safely re-inserted.
IMPORTANT: If an SD card set up as internal storage is removed from the device, it can cause card corruption. There is no guarantee that, upon re-insertion, the device will still be able to read the card as it contains a unique encryption key.
How can I protect my data on the adopted SD card?
We recommend you make sure important content (contacts, movies, pictures, media) and apps are backed up to the cloud.
The lifetime of an SD can vary depending on its manufacturer and class. We see a large variety of cards, each with different properties. If you decide to use an SD card for internal storage, it will typically have lower lifespan expectations than embedded device storage. Perform regular back-ups to the cloud to ensure you don't lose important data in the event of SD card failure.
What if I change my mind about how I want to use the SD card for storage?
Backup your data before reverting, as this formats and erases your data again.
Access storage settings, touch Settings > Storage > select SD card > select the three dots in the upper right > Settings > select Format as Portable.